Crawford and Pilot Peninsulas
We are pleased to offer an exciting mountain biking experience on the Crawford Peninsulas multi-use trail system. These trails include the historic William Fraser, Fraser Hill Viewpoint, Woodlot and Height of Land Trails as well as Boomers Landing, Upper Levels, Eastside, Lakeshore trail along with shorter connecting routes. 
There are three ways to access the Crawford Peninsulas recreation trails by land. For the best MTB experience we suggest dropping a vehicle in Crawford Bay and driving up the Pilot Point FSR either to the North Spur Rd (shorter ride) or 3.5 km to the Boomers Landing / Height of Land trail hub. Mountain bikers should then ride up the Height of Land Trail to the north. Riding up Peters Rd and the Pilot Point FSR from Crawford Bay is not uncommon and will guarantee a serious work out. Alternatively you can access the Crawford Peninsula from HWY 3A at the powerlines below the YRB highways yard. The third way to access the Peninsula is from Pilot Bay Provincial Park on Pilot Bay Rd however this trail access is hiking only.
The ESTBA Trail Map divides the peninsula trails into non-motorized multi-use trails and designated hiking routes. The hiking trails are in the Pilot Bay Provincial Park as well as the southern crown land trails that connect to the Boomers Landing upper trail hub. These trails have not been designated for mountain biking due to park regulation, land use changes and general trail design that doesn't make for the best cycling experience.
If you find yourself mountain biking on these trails please be extra considerate with hikers you encounter by dismounting your bike as you pass. Communication is key for a safe passing.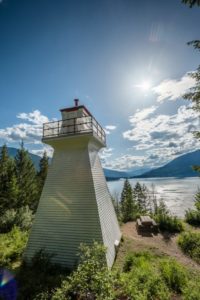 Constructed in 1904, and activated in 1905, the Pilot Bay Lighthouse is the last remaining inland lighthouse in British Columbia and is a white,
Read More »